Belarus 2020: Trauma and laughter.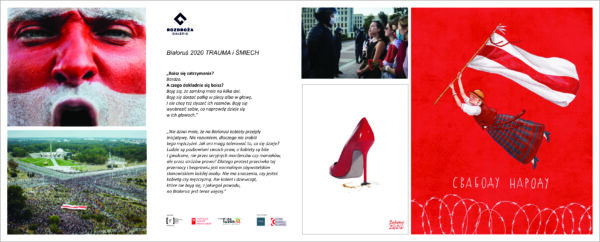 CROSSROADS GALLERY: "BELARUS 2020. TRAUMA AND LAUGHTER."
DECEMBER 2020 – FEBRUARY 2021
CROSSROADS GALLERY
We are creating a new exhibition space, which will function in the building of the Centre for Intercultural Creative Initiatives CROSSROADS and in virtual reality.
We will look at the phenomena connected with cultural, social and political changes in the world. We are inspired by the symbolic meeting "at the crossroads", a place where paths, roads and tracts intersect, which we relate to contemporary cultural changes and aspects of social functioning. We are guided by the need to define identity and seek freedom.
The definition of the "crossroads" formulated in this way is the basis for thinking about culture in the category of dialogue, permeation and examination of mutual relations and even confrontation, which we observe in many contemporary activities. We are part of this trend by documenting the events taking place before our very eyes, by examining their cultural resonance and promoting citizenship.
Unlike our Open City Festival, which presents art in urban space, here we will present the city with its social and cultural challenges in a closed gallery, which is a passage through the building. However, at the same time, we would like to open it to the borderless reality of the Internet.
We will focus on the processes of cultural, social and political transformation, a kind of "being at a crossroads".  We are interested in art, which is a form of civic activity, i.e., social art.
TRAUMA AND LAUGHTER
In the beginning there was trauma…
The events of 9 – 11 August are at the heart of the story of Belarus protests. The sight of battered, tortured people, the compulsive recurrence of the images of bruised bodies, all shook the collective consciousness to the core. When protesters were detained just after the rigged election, there was talk of the unjustified brutality of OMON, but at the time, no-one suspected that the people beaten with truncheons as they were being detained were being battered later as they were transported and then jailed, and that they would be battered and tortured the following day, and then the day after that…
Protests broke out in Belarus with almost every election, and the response was always violence. For all these years, Belarusians kept looking for their own idiolect of dissent, and now they found it: the Belarusian protests are FEMALE, PEACEFUL, and INTERESTING for the MEDIA.
Visually captivating, the 'Women in white' march was a logical outcome of the female strand of the Belarusian protest with the idea of non-violent action, because violence is what the authorities are expecting and what the powers that be are ready to respond to. Belarusian men and women fight lies and violence with love. The power of the powerless is on their side. Violence can stifle violence, but not truth, not love, not solidarity.
The importance of new internet and communication technologies to this fight cannot be overstated. Belarusians have taken to the post-media performativity: they have organised a comprehensive guerrilla artistic movement and deploy art therapy en masse, producing unbelievable amounts of posters, songs, murals, and mastering the art of fighting violence with mockery and laughter.
dr hab. Irina Lappo
Faculty of Humanities, Maria Curie-Skłodowska University in Lublin
Institute of Polish Philology
BELARUS 2020
But for the courageous independent media of Belarus, which continued their work despite court cases, persecutions, and arrests of their staff, the atrocities by Belarusian authorities and the boundless courage of Belarusian men and women would never have come to light. This exhibition is not only a tribute to the resolute citizens of Belarus. It is also homage to the Belarusian journalists, photographers, and artists who made and showed to the world the true chronicle of the 2020 Belarusian revolution.
Julia Szabłowska
Exhibition curator
The exhibition features photographs by
Iryna Arekhouskaya, Tatiana Kapitonova, Julia Szabłowska, Alexander Vasukovich
and prints by Belarusian artists:
Andrei Pichushkin, Alex Serada, Alena Shkadina, Anna Elagina, Anna Redko, Ekaterina Zagorodnaya, Hanna Murajda, Hanna Schevchik, Illa Jeraševič, Kastus Supracy, Lilia Kvatsabaya, Yuri Ledian, Maria Popkova, Masha Animia, Olga Balai, Olga Mishanova, and Stepa Was Here.
THE FEMALE FACE OF THE BELARUS PROTEST 
Protests broke out in Belarus on the evening of 9 August 2020, almost immediately after the polling stations had closed. Along with men, hundreds of beautiful, brave women walked out onto the streets. They spoke of the rigging of elections and of their votes being stolen. Many were beaten, mutilated, and humiliated in the militia vans, jails, and prisons. But this did not deter the Belarusian women, on the contrary – it angered them and stirred them to fight for their beliefs and convictions. As early as on 12 August, they stood in the streets with flowers in their hands, forming human – female – chains of solidarity to protect their children, husbands, partners, fathers, brothers, friends, each other, and themselves. 'We have had enough! We are many and it is our country. There had never been as many Belarusian men, let alone women, taking part in protests. But the events of 9-11 August 2020 inspired them to come together to fight for their country and their families. For many years, Belarusian women would quietly do their 'women's work', running the house, looking after the children, being wonderful friends, wives, and mothers. But the rules of the game changed in August 2020. Each woman got an opportunity to express her unique ideas. Together, they speak loud and clear.
________________
Lukashenko went a long way to ensure Belarusian women created their own form of protest. For years, he would make sexist comments and never showed us respect… It was obvious that sooner or later women would say 'enough'. But even now, when there are thousands of us in the streets, he keeps making things worse with his comments and so he's forcing us to go out onto the streets in protest, leaving our jobs and our families. So, it's the present authorities who have to be thanked for the women's protests.
________________
Are you scared of being detained? A lot.
What are you frightened of specifically? I'm scared of being locked up for a few days. I'm afraid I'll be hit on the head or my back with a truncheon. And I don't want to hear them talk. I'm scared to imagine what really goes on in their heads.
_________________
I'm not surprised it is women who took the initiative in Belarus. I don't understand why men failed to do it. How can they tolerate what goes on? People are stripped of their rights, and women are beaten and raped, not by serial killers or maniacs, but by law enforcement officials! This is why protesting against this violence and lawlessness is a normal civic act of every person. It doesn't matter whether you're a woman or a man. But for some reason, there are now more women and girls in Belarus who are not afraid.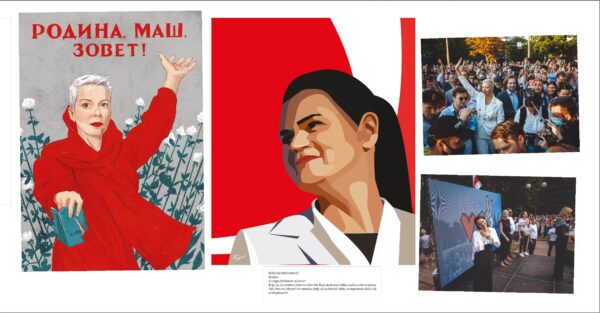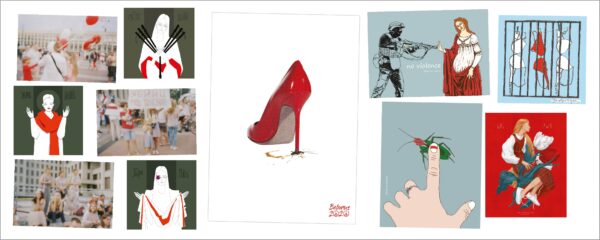 BELARUS 2020
Belarusians astonished everybody. Most of all, they astonished Alexander Lukashenko himself, who had been expecting to rig the election as usual, and then disperse any protests with militia truncheons. It turned out otherwise – Belarusians had been fed up with the worsening economic situation and the archaic, authoritarian kolkhoz leader who considered the country and the nation his personal property. And the world has changed over the last quarter-century – and Belarusians are no longer passive, meek, or ignorant.
The final straw was the lack of reaction from the authorities to the COVID-19 pandemic in the spring, adorned with Lukashenko's absurd and embarrassing statements. Then, as is the tradition, the authorities went on to imprison those who could potentially threaten Lukashenko in the imminent presidential election. And then, equally traditionally, it turned out Lukashenko won the election, with over 80 per cent of the votes.
Belarusians would not put up with that. But despite the regime (and Russian) propaganda, they did not want to overthrow the government on the incitement by the 'Western instigators' – they simply wanted fair elections. And these are people who have much in common with Russia and are in no hurry to join the West.
That the protests were headed by women is doubly symbolic – they replaced the men who were imprisoned, and they ridiculed the arrogant Lukashenko, who often speaks of women in contemptuous and patronising terms.
Today, the political nation is being shaped, and its identity is being cemented. The world can now see that Belarusians are not an amorphous mass of post-Soviet people lacking an identity. Nonetheless, this is just the beginning of a long road. Built up over long years, the regime is not going to give up easily, and Russia is not going to idly watch from the sidelines – Belarus is of high geopolitical importance, and democratic leanings are regarded by the Kremlin as a bad example for Russians. But even if this is not the fall of Lukashenko, it is the beginning of this fall. More broadly, this is a continuation of the dismantling of the Soviet empire. As noted by Svetlana Alexievich, 'changes are underway, except they are slow, and sometimes, like here, painful'.
dr Jakub Olchowski
Faculty of Political Sciences and Journalism, Maria Curie-Skłodowska University in Lublin
Institute for Central Europe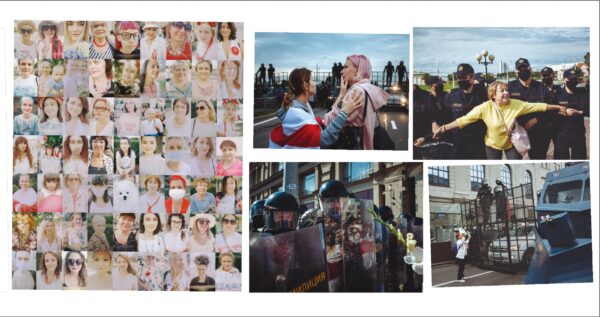 PEOPLE MATTER THE MOST
The strike is a spontaneous and grassroots initiative. Though inexperienced in protests, the workers of Belarusian state-run enterprises did not accept the outcome of the rigged presidential election, nor did they overlook the violence by the functionaries of the state. For the first time in the history of Belarus, the people Lukashenko had considered the pillar of his electorate yelled at him to 'Go!' And they promised the strike would continue until he quit, despite the threats of shutting down the mutinous factories and plants.
________________
I'm on strike so that we don't live in a country where everything is built on a lie.
Alexandr (24). Worked at the Minsk Tractor Works for three years. 
________________________
The management started intimidating people straight away, though they were scared themselves: when the people joined the strike, the management hid in their offices. They tried to intimidate me too: I was told KGB was on their way to get me. But I don't think KGB is going to waste their time and resources on me.
Siamion was working in the Minsk Automobile Plant based on a work order, issued to graduates of Belarusian state universities. He joined the general strike as soon as it was announced. After less than a week, he was dismissed from work, and the university issued him with a bill to pay 2400 roubles.
_________________________
They made it clear to us we will no longer work in the plant. If we do not quit, they would fire us 'as per the book' – on disciplinary grounds. But I have no regrets. If I had known how this would work out, I'd have done the same anyway.
Alexei worked at the Minsk Tractor Works for three years. He resigned but applied to work again. After a week's strike, he and two of his friends were dismissed by the management.
______________________
What can Lukashenko tell us? That 'everything is done legally and keep enduring my rule'? Well, let OMON take over the machines then.
Zmicier, a worker at the Minsk Automobile Plant.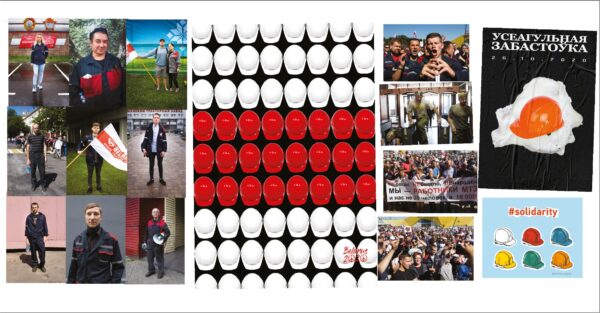 BABUSHKA WITH A FLAG
I sew the flags myself with my sewing machine, although my fingers already hurt. But I will carry on as long as I am strong enough to do it. I will go out until I have Alzheimer's.
The oppositionist Nina Bahinskaya, also known as the 'babushka with a flag', has become a true symbol of the protests in Belarus. For the last 32 years, she has taken part in almost every march, and she has joined almost all solidarity actions. She fights for the Belarusian language and culture, civil rights and democracy. She was written down and detained more than once by the militia, and she still has a fine for 'participating in illegal gatherings' to pay. However, this does not stop her. She boldly and loudly says 'I'm just walking!' to OMON officers. And she is obviously doing it with a white-red-white flag.
I am happy that our society has finally felt like a nation. I am not naive. I know that maybe I won't live to see it, but change will come in the end, she says.
At 73 years of age, she is filigree, and looks like a little girl from afar. She has short, greyish-white hair and glasses. Bahinskaya has no cell phone, she does not use a computer. At home she only has a landline phone, which has recently been ringing almost all the time: every journalist from Belarus and abroad wants to talk to this brave old lady.
What do the young people tell me? They appreciate what I do, that the old generation is stubborn too and wants their happiness. I explain to them that I have no choice – I don't want my children, grandchildren and great-grandchildren to live under dictatorship again and to be sent to fight in someone else's war, Bahinskaya stresses.
Nina considers the authorities in Belarus to be 'bandit and fascist', and Russia to be an empire that feeds on the nations it controls. She does not mince her words in talking about all this. She believes that maybe Belarus will be helped by the West, as was the case with Slobodan Milosevic's Yugoslavia.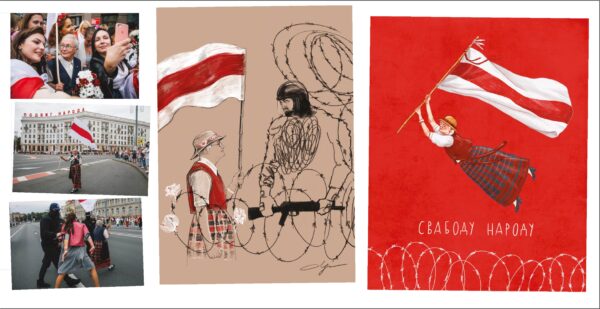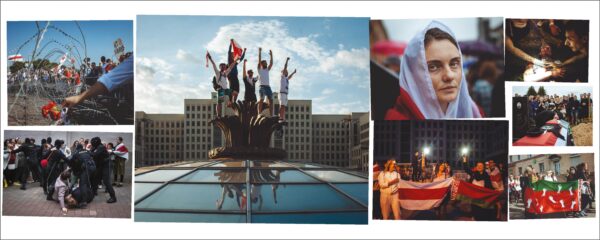 BUT IT IS NOT ONLY SOME SIGNS…
One of the phenomena of the Belarusian protest is its location in small towns, districts and even individual courtyards. Initially, the centre of activity in the capital city was the Kopishche village, a manor house on Cherviakova Street, known as the Square of Changes, and Borovlyany and Tarasovo estates. Then the entire city of Minsk got infected with the idea of befriending its neighbours. People started to communicate through district and street chats via the Telegram communicator, meet for tea and biscuits in their backyards, organise concerts and street art actions…
Most of the district chats even invented and chose their flags, which were based on the white-red-white national flag as a sign of solidarity with other protesters. And here they are!
The options offered are different: there are authors who focus on design, and those who are more concerned about the meaning and try to decipher the name of their district. Such flags are not always popular among the residents, but they deserve the attention of rebus lovers.
'I'M GOING OUT'
A young, handsome and talented Roman Bondarenko died in hospital after being beaten by unknown people wearing balaclavas. A 31-year-old supporter of political changes in Belarus went out to defend the white-red-white flag made of ribbons, in the backyard of his house, known as the Square of Changes. He was the eighth victim to die during the protests that started just after the presidential elections in Belarus on 9 August, 2020. His being murdered in his own backyard shocked Belarus, and his last sentence 'I'm going out', which he wrote in the Telegram communicator to his neighbours meeting in the 'opposition' courtyard, has now become one of the main slogans of the protests.
On 15 October, Belarusians took to the streets of Minsk to express their opposition to the growing militia violence and defend the national memorial in honour of Roman, which was created in the Square of Change on the evening of his death. The militia and OMON forces, however, launched a brutal assault on the Square's defenders. First, OMON soldiers started to tear out one by one the people holding hands, then they stopped each and every one. Within a dozen or so minutes almost all the people gathered there were arrested. The pacification ended with the destruction of the memorial itself – first, militiamen tore off and took away the white-red-white national flags, which Roman defended on the day of his death.
The intensification of the militia's brutality and Roman's death can be attributed to the words of Alexander Lukashenko, who threatened the demonstrators some time ago that if they were to touch a uniform, they would 'lose their hands'. He also announced that the militia would break into the apartments if the participants of the demonstration were to hide in them.
'This is real fascism, seasoned with Stalinism. That is why we are GOING OUT now. To commemorate Roman Bondarenko, Alexander Taraikovsky, Alexander Vikhor, Arciom Porukov, Konstantin Shishmakov, Gennady Shutov, Nikita Krivcov, Alexander Budnitski,' Belarusians reacted.
LONG LIVE BELARUS!