PORTAL
PORTAL
A BRIDGE TO THE UNITED PLANET
Upcoming events around #pOrtal
➢  04/06/2021 | 8 p.m. FIRESHOW: Bartek Kuźma & Matas Daunys ( Viduramžiai LT )
➢ 07/06/2021 | 4 p.m. MEETING OF MAYORS: Krzysztof Żuk / Remigijus Šimašius
➢ 08/06/2021 | 6 p.m. JUGGLING MEETING: open training
➢ 12/06/2021 | 11.30 a.m. GAME OF SKATE: Lublin-Vilnius
➢ 13/06/2021 | 1 p.m. KNIGHTHOOD MEETING: Lublin-Wilno
➢ 10/06/2021 | 9 a.m. MEETING OF RECTORS: Lublin University of Technology / Vilnius Gediminas Technical University
➢ 18/06/2021 | 5 p.m. IV INTERNATIONAL RENAISSANCE FESTIVAL: parade od dancers, musicians and jugglers
➢ 20/06/2021 | 12 noon BEYOND THE BOUNDARIES: meeting of Belarusian refugees living in Lublin and Vilnius
➢ 01/07/2021 | 12.15 noon LUBLIN GREETS VILNIUS: celebrations of the 452nd anniversary of
the Union of Lublin
➢ 20/07/2021 | 10 a.m. MEETING OF POLISH AND LITHUANIAN VOLUNTEERS OF THE RED CROSS
The main idea of the project is to create a communication platform for passers-by, but also  institutions and organizations. PORTAL creates the opportunity to show Lublin's projects in the Lithuanian capital, and interactive activities on both sides. We encourage cooperation and taking initiatives, as well as engaging in the implementation of activities aiming at connecting communities in Poland and Lithuania. Project proposals may be submitted at the following e-mail: e.wolowczyk@rozdroza.com
LITEWSKI SQUARE/LUBLIN | VILNIUS/RAILWAY STATION
MAY-AUGUST 2021
What is the first image that pops into your head when you think about the world of the future?
Close your eyes and imagine your city.
The City of Lublin, in cooperation with the City of Vilnius and the Lithuanian Benediktas Gylys Foundation and the Center of Intercultural Creative Initiatives "Crossroads", carry out an international project called PORTAL.
The main component of the initiative is a concrete object resembling a virtual door, which will be installed at the Litewski Square, and will be present in the public space until August. Using cameras and a large round screen, the installation will transmit the image between Lublin and Vilnius through an internet connection.
PORTAL, as its name suggests, will be a ticket to travel in time, to the city of the future. Thanks to the use of new technologies, we will create a visual bridge and enable residents to experience a unique feeling, called the "overview effect". An experience known so far only to astronauts who experience watching the Earth from outer space causes a radical change in self-awareness and gives a sense of community.
The project, which integrates and awakens the awareness of unity, will allow mutual observation, and establish contact in real-time. It will bring cities together, encourage us to meet new people and cultures, and will be a place for dialogue, which will bring us closer.
All information about the initiative and accompanying events will be posted under the links:
www.portalcities.org
www.rozdroza.com
www.benediktas.com
www.lublin.eu
Lublin / Litewski Square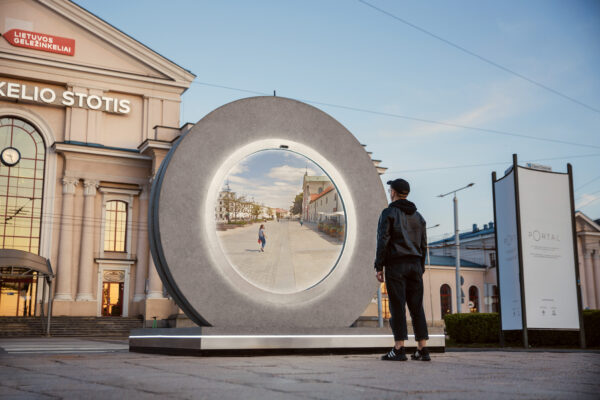 Vilnius / Railway Station