Chris Niedenthal / Our Poland Today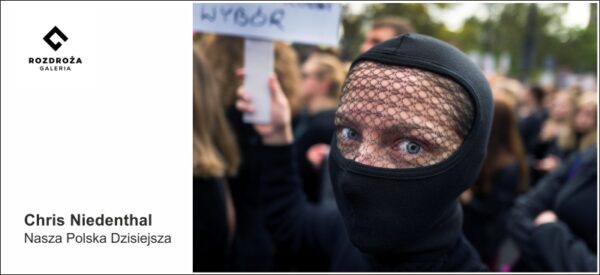 CHRIS NIEDENTHAL
OUR POLAND TODAY
CROSSROADS GALLERY: MAY-JULY 2021
"Human memory is unreliable, it often fails. But Chris takes to the streets with his camera not only to strengthen and preserve it. Not even because he wishes to put his photos as mirrors reflecting the divided and conflicted Polish society. He does it to make us have a look at ourselves. He does this for he cannot do otherwise. In his case, photography is not a job. It's a mission. And his nature."
                                                                                                              Anda Rottenberg
The Centre for Intercultural Creative Initiatives "Crossroads" is a municipal cultural institution, operating in Lublin since 2008. The Centre's activity is firmly rooted in the locality of the region, but we inscribe our experiences in a universal perspective, and we try to match global trends with the singular practices of our everyday life.
Our ambition is to undertake bold, risk-bearing initiatives, penetrating unknown territories and cultural "crossroads". We look at the processes of meeting, dialogue, and confrontation, inspiring attitudes of tolerance and social responsibility.
Driven by the need to define identity and seek freedom, as well as the desire to look at the phenomena connected with social changes, we have established a new exhibition space, "Crossroads Gallery". The Gallery has been functioning since December last year, both in the Centre's building and in virtual reality.
Unlike our Open City Festival, which presents art in urban space, in this case, we present the city, with its cultural challenges, in a closed gallery, at the same time opening it to the limitless reality of the Internet.
This allows us to focus on "social art" and civic activity, documenting events that take place before our eyes, examining their cultural resonance, and promoting pro-social attitudes.
With the inaugural exhibition, entitled "Belarus 2020. Trauma and laughter" we presented a true chronicle of the Belarusian revolution, triggered by the fraudulent presidential elections won by Alyaksandr Lukashenko, which led to mass protests by peaceful citizens.
The events in Belarus and the similarities of civic attitudes helped draw attention to the situation in our country. As a result, we decided to present the photographs by Chris Niedenthal, one of the world's most renowned and recognized photojournalists, commenting on the Polish reality.
Almost four decades have passed since the famous "Apocalypse", a shot taken by the artist in front of Kino Moskwa in December 1981. He could sit back and work only on his archive of negatives, numbering thousands of frames, making exhibitions, and publishing albums. However, after the election of 2015, there were fewer and fewer "quiet moments" and he again had reasons to go out into the streets.
The works that made it to the final selection presented at the exhibition are a subjective image of Poland in the last five years. Emotional portraits of "ordinary people", protests in front of the Constitutional Tribunal, the Sejm, the Presidential Palace, in front of the courts, and demonstrations, the 2020 election campaign, women's marches, and the "Independence Marches", as well as the pandemic which almost completely dominated our lives.
General shots "from a bird's eye view" and close-ups of faces, captured in this special moment that all world's photographers dream about. Gestures expressing anger, determination, joy, irony, stubbornness, and sadness. Demonstrators and policemen. Adults and children. All this is a recap of the history of Poland in recent years, one the viewers can see in the photos presented at the exhibition "Our Poland Today" by Chris Niedenthal.
LOST YEARS… AND HERE WE GO TO THE STREETS AGAIN
As soon as Law and Justice won the 2015 elections, I instinctively felt that we, Poles, will be having a hard time. That this loudly proclaimed "Good Change" will be anything but good. Although years have passed since I did protest photography, I knew I will need to brush up my cameras and take to the streets again. And so I did.
Photos I have taken show how dismantling of the Polish state began from the Constitutional Tribunal, and all the rest went headlong. Unfortunately, the "inferior kind" insult has become widespread. Countless protests and demonstrations in front of the Sejm held during the day, at night, in the sun, in the rain and in the freezing cold. Even more demonstrations in front of the Presidential Palace, the Supreme Court, Chancellery of the Prime Minister that were followed by large-scale impressive street marches. The Silent March of a Thousand Gowns in Warsaw, which departed from the Supreme Court and arrived in front of the Sejm was especially awe-inspiring.
From the photographer's point of view, I was primarily interested in faces of the protesters. Not in the police-like sense of course, to help recognize "the bad"! Not at all! My intention was to record emotions, as you could see from the faces of all the women and men that they are deeply concerned about their country, that they see the wrong around them and that they need to protest against it at all cost. To defend independent judiciary, women's rights… Even now, when we all have had to wear masks covering our mouths and noses; you could see only in the eyes of the protesters the extraordinary emotions evoked in all of us during those grand street marches.
In the past five or nearly six years however, there were other marches and parades, organised for different reasons.  Although the underlying reason was actually always the same: to show disapproval of the government's policies and ideology it promoted. And so we have a photo from the Equality Parade organised to defend rights of LGBT community, so much disregarded and insulted not only by members of the government, but also by the President of the Republic of Poland. There are also a few photos taken during two different marches held on Poland's Independence Day, organisation of which was taken over to a considerable extent, and it is not clear why, by national and nationalist organisations.
Here we can see the Gdańsk-based sculpture of Neptune wearing a T-shirt printed with "Constitution" [Konstytucja]. Another photo from Gdańsk presents a view of the Solidarity Square in front of the old shipyard, with a huge heart made of burning grave lanterns to commemorate the assassinated Mayor of Gdańsk, Paweł Adamowicz.
This series of photos also includes a photograph from the opening of Andrzej Duda's presidential campaign, juxtaposed with a photo of the site in front of the Palace of Culture in Warsaw where Piotr Szczęsny committed suicide by immolation, in response to policies of the ruling government.
So in the period between 2015 and 2021, Poland saw the return of turbulent times; the series definitely cannot miss a symbolic photo related to the COVID-19 pandemic: it shows confession organised in the open air before Easter, in front of the closed Temple of Divine Providence in Warsaw.
Police officers also had their protest day, merrily blowing plastic vuvuzelas…
And the year 2020 was marked mainly by admirable activities of a women's movement called Women's Strike. Stunning actions of younger and older women in the streets of Warsaw and many other cities and towns across Poland. Finally, also teenagers took to the streets, which is very important for in a couple of years they will be eligible to vote, and most probably they will join the opposition.  Women's Strike has opened a new era in street protests; unfortunately, it also awakened the dark side of the police. And women showed us how wise, brave, creative and active they are.
Women are power!
Chris Niedenthal
THE URGE TO RECORD
It has been nearly four decades since the iconic photo of Apocalypse Now poster was taken in front of Moscow cinema in Warsaw in 1981. Chris Niedenthal became the most internationally acclaimed photojournalist from Poland; he could have rested on his laurels and only arrange his impressive archive comprising thousands of negative frames, organise exhibitions and publish new albums.
He would do it of course, but at "more peaceful times". After elections in 2015 however, the times got more and more turbulent, and he again had reasons to leave home and run the streets in the heat or rain, snow and cold.
I would meet him anytime something was going on. He would quietly watch the events and every now and then take out his small but well-equipped camera from the pocket of his age-old parka jacket. He would do it every time he glimpsed a relevant shot, and after many years of practice, one does it without even looking through the lens. From the latest series of his photos I can see that I was absent in the majority of sites he managed to reach. Protests in front of the Constitutional Tribunal, the Sejm, Presidential Palace, courts. Women's marches and marches on Poland's Independence Day, presidential elections and Eight Stars Movement. Bird's eye views and close-ups on faces, caught in this special moment all photographers of the world dream of, faces and gestures expressing anger, dedication, happiness, irony, persistence and sadness. Protesters and policemen. Adults and children. Young antifascists and young nationalists, the former and the latter demonstrating their views with relevant outfit and symbols printed on face masks due to the pandemic; you can only see their eyes. Single shots: "Women's Rights Roundabout"; wall of an old rostrum in front of the Palace of Culture with a sprayed inscription: "It was here" marking the site where Piotr Szczęsny set himself on fire; confession in times of pandemic, organised in an empty parking place in front of the closed Temple of Divine Providence; Gdańsk-based sculpture of Neptune wearing a T-shirt printed with "Constitution" [Konstytucja].
Watching of these photos is a recapitulation of the most recent history of Poland. It is remembering subsequent acts of civil disobedience, lack of consent to violation of the constitution and independent judiciary, women's rights and rights of non-heterosexual individuals. Spontaneous reactions to the deprivation of freedom. In the past year, all this overlapped with restrictions in place due to the coronavirus pandemic.
Human memory is unreliable, it often fails. But Chris takes to the streets with his camera not only to strengthen and preserve it. Not even because he wishes to put his photos as mirrors reflecting the divided and conflicted Polish society. He does it to make us have a look at ourselves. He does this for he cannot do otherwise. In his case, photography is not a job. It's a mission. And his nature.
                                                                                  Anda Rottenberg